My Thanksgiving was good...

My daughter came home from Seattle, arriving here in Boise, late the Sunday before Thanksgiving. She had to leave Thanksgiving morning to be in Los Angeles that evening. So, time spent with her felt way too short. I had to work and my son had school, Monday, Tuesday and Wednesday, the whole time she was here. The evenings just were not enough time when she's been gone so long! Of course, I would take what I could get, and we made the best of the time we had together. I miss her, but love that she's enjoying the life she lives. She spent alot of time with my parents this visit.

My brother and his four kids, ages 20, 19, 17, and 15, and his first grandchild (above, and who was featured in my previous entry), starting arriving Wednesday. They all stayed at my parents' home just four miles up the road, joining our holiday celebration. My brother drove up from the central coast of California. He was able to visit with my daughter for a few hours.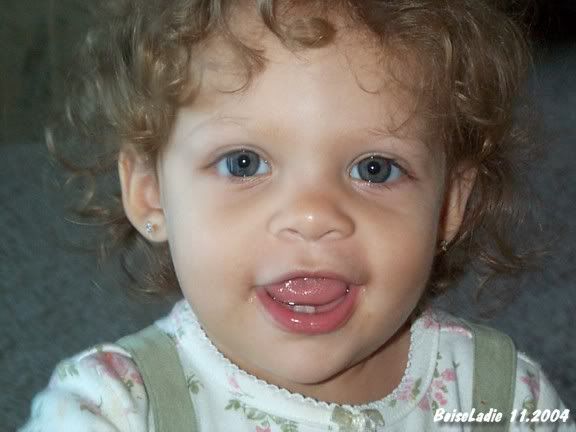 His oldest, my niece, flew in from Louisiana with our precious little angel, her daughter, Gabrielle. My brother's oldest son flew in from Santa Barbara, California, where he attends UCSB. His youngest two sons flew in from West Virginia. These two missed a connecting flight in Washington, DC and didn't arrive until Thanksgiving morning, more than 9 hours late and missing their luggage! The poor guys were exhausted. They all missed my daughter.

My guy got in Wednesday as well. I surprised him at his load destination, not far from our home, while he was waiting to be unloaded. I remember driving right up to the front of his truck, as it was backed-up to the dock. We were talking to eachother on our cell phones, and he didn't even see me pull up. He was very surprised.

After checking to see how long it would be to get unloaded, we went and had an early dinner together at a great local barbecue rib place. Mmm... it was so good! We talked about kids and family and how this holiday would be different for us. See, after dropping my daughter off at the airport Thanksgiving morning, he and his son would be going to his brother's for their Thanksgiving feast, a two hour drive away, in Twin Falls. And, my son and I would stay in town with my family. This is the first time in many years, my guy and I have spent the holiday apart! By the time we got back to his truck, it was unloaded and ready to go. We met at home later. It would be our last evening spent with my daughter together.

Thanksgiving... I woke up feeling a bit under the weather. Even so, I fixed a special breakfast to have some sort of celebration with my daughter while we were all together, before she had to leave. By noon, she would be on her flight to California, my guy would be on his way to Twin Falls with his son, and my son and I would be headed to my parents' home. I was back home and in bed by 5pm. Whatever I woke up with was hitting me hard and strong. I slept until 8pm (I set my alarm... lol). I wanted to see The Apprentice! My guy got home about 11pm.

Friday... I fixed a Thanksgiving dinner for us at our home. My guy's son joined us. The four of us, our two boys and us. It was very nice and simple. I love the smell of home cooked meals, especially those that roast all afternoon. It was worth all the time and effort getting it together. I was surprised at how easy everything came together, the timing was perfect for everything. Mmm.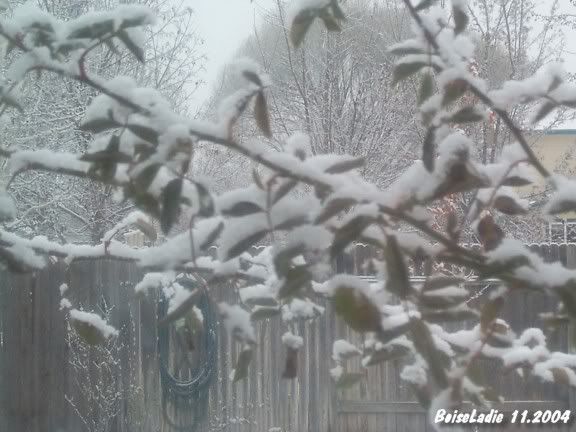 Saturday morning... My guy had to leave to pick up a load in Ontario, OR. He left at 5am. I awoke hours later to our first valley floor snow! This photo was taken from my dining room window onto my frozen roses in the backyard! It snowed, off and on, all day. By the end of the day, the snow had all melted away. My guy was back in town and home by 6pm. I spent the afternoon with my family, and was home just after my guy. We watched the BSU game on t.v. together before he had to leave for southern California. Great game against University of Nevada, Reno!

Saturday night... BSU WINS WAC CHAMPIONSHIP! BSU is undefeated, 11-0 for the season! They are waiting for an invitation to play in the Liberty Bowl at Memphis, Tennessee, against Louisville. Whoo-hoo! Go team! It's possible they may go BCS to the Fiesta Bowl. BSU is number 8 in the BCS listings, and needs to be at number 6 to be in the Fiesta Bowl.

I've not ever really followed football before, but the last couple of years, my school, BSU, has done very well. They won the WAC Championship outright the last three years in a row. This year I didn't miss one game!

Puppy update... We now have three of Harley's sons from this last litter. Remember, we received Rodney as our stud fee about six weeks ago. He's just as cute as can be. I need to get more pictures of all of them! Then, two weeks later, Harley's horrible accident happened. We came home with Ozzy, later that same week. Ozzy and Rodney were then eight weeks old. About two weeks after Ozzy entered our lives, we went to the litter home to keep our end of our financial agreement, and ended up with Peanut. Peanut is very special.

At about six weeks old, we and the litter family, took Peanut to the Vet. He just wasn't doing as well as the other pups. Peanut weighed only 11 ounces, was pretty much blind, maybe seeing shadows, and had a condition called hydrocephalitis (water on the brain) which was causing his head to swell and pressure to his little eyes.
Peanut had been my guy's "pick of the litter" since the pups were born, September 8th. After this particular visit to the Vet, we just didn't think we had what we thought it would take to care for such a sick puppy. The Vet was talking about shunts at the cost of $2500/3000; this, that and the other thing, this pup might need or go through.

All four of us came out of that first Vet visit in shock. None of us had thought little Peanut was that bad off. We all went home without making any decisions on Peanut. After a couple of days, our gathered group thoughts were Peanut would live a happy life with his momma and familar surroundings with his litter family. We brought Rodney home. The Vet promised to contact Washington State University in Pullman, WA, to see if there was something else we could do for Peanut.

When I picked up Ozzy that Friday night, the pups were eight weeks old. I was totally amazed at Peanut. He looked really good. I was impressed at the difference in him from the Vet visit just a couple of weeks prior. I thought even, maybe he was able to see. I wasn't sure, but he looked really good.

My guy wanted to make his payments for Ozzy to the litter family in person so we could see Peanut and how he was doing. The pups were now ten weeks old when we went to make this first payment. Peanut looked great! The litter family had heard back from the Vet and were giving Peanut step-down doses of prednisone. His head swelling was shrinking, his eyes appeared to be clearer and he looked as if he was seeing just fine. We had brought Rodney and Ozzy with us that night, and Peanut was playing right along side with these pups.

The litter family practically begged us to take Peanut, if we had any inkling to do so! See, the wife fell at home last January and broke her femur. She's been in a wheelchair ever since. They are in the midst of remodeling their home to make it wheelchair friendly. And being in a wheelchair, she just isn't able to care for Peanut. Housebreaking was impossible. Peanut looked perfect, he had gained weight, appeared to be seeing fine, and was as active as the other pups. The litter family told us they would only let Peanut go to us or her mother, who has the only female pup from this same litter. We took Peanut home that night.

This week the pups will be twelve weeks old! Ozzy goes trucking with my guy, coming home two to four days after five to ten days out. Rodney and Peanut go to work with me everyday. Peanut's just about the same size as Rodney now, it's amazing! Peanut weighed 1# 15z last week. Rodney weighed 2# 3z. We take Peanut to the Vet every two weeks and so far, there's been no charge for his visits, just the cost of his meds, less than $6. His swelling has gone done to nearly nothing, his eyes are bright and clear, and he's on the tiniest dose of prednisone, every other day for now. If you know what you're looking for, you can find a couple of things that make Peanut special, but Peanut is doing GREAT!


Peanut! First night home with us at 10 weeks old. Dang camera! Blurry, a bit like Peanut.