Puppies, puppies everywhere...
This is Ozzy!


A couple of days after Harley was gone, my guy called the family that had Harley's puppies to see if they had any left. They had one male left! My guy asked if nobody was interested in him, he would like to have the pup.

Ozzy, 8 weeks old.
Ozzy looks a lot like Harley! Lots of gold. Remember when we got Harley, we talked about his "black with gold trim." I picked up Ozzy, late Friday night. My guy wouldn't be home until the morning. Once home, I gave both pups a bath. These pictures were taken immediately after baths. My guy hadn't seen Ozzy since we picked up Rodney, when they were 6 weeks old.

The next morning, I picked up my guy up for the first time without Harley. I had Lucy, Molly, Rodney and Ozzy with me. Harley will be there in heart and soul.

I was afraid of picking up my guy. Afraid of how I would react knowing Harley was really gone. When I got there to the truck, my guy was still in the sleeper finishing up paperwork. His boss was hanging onto the passenger side of the truck, leaning in the window, talking to my guy.

I wanted to just run up to my guy and give him a gigantic hug, but it was all business. Unloaded his belongings into our little truck and chatted with the boss.

I grabbed Rodney and Ozzy and brought them to my guy. The boss came over and checked out both the pups. He gave his condolences about Harley and then got the greatest face washing he had all day! These little guys were so sweet! The boss even said he wanted to get one like them.

The next thing I knew, another older trucker came up to us. He explained that he had to put his Yorkie he'd had for years, down just last week. OMG! Here's a pup! I let him hold one of the boys while I got Lucy and Molly out to show. I told him that the pups' daddy was killed just last week. It felt good to share the babies with this old trucker. I could see he was really missing his Yorkie.

Everyone got their puppy kisses and we were off. On the way home, my teary-eyed guy told me how sorry he was about Harley, how he blamed himself, how he missed Harley more than anything in the world. When we got home, he handed me Harley's collar. At this point, I lost it... again. This was real, this wasn't a bad dream, Harley was not coming home.

Ozzy, or Rodney for that matter, will never, ever replace Harley. But Harley lives on through them. We would have never gotten another puppy if it hadn't been Harley's pup. Immediately after the accident, I even thought to give all the dogs away! I didn't want to feel this deep, heartwrenching pain ever again! Of course, after a couple of nights sleep and clearer thinking, I would never give these little guys away! I love them! We love them!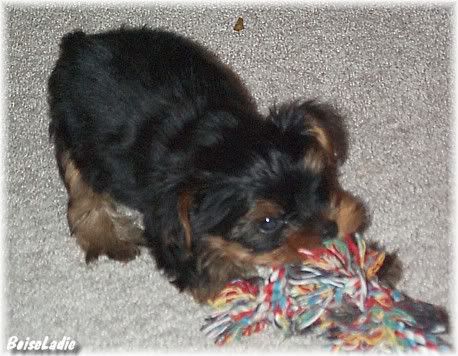 Rodney
After breakfast out and a quick clean up and packing, my guy, my son and I left for Salt Lake City with four of the cutest Yorkies ever! We wanted to be in Midvale, Utah, by 6 or 7 p.m. to meet up with my daughter and her band. With two 8 week old pups, we would be making lots of potty stops along the way. And remember, my 15 year old son has his driving permit, so he'll get to drive tons of miles! He was pretty excited!
Here's Lucy!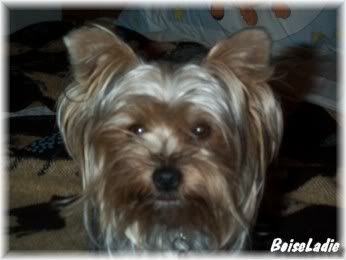 ...and last, but not least, Molly.