1. Think back to weddings you have attended (other than your own): what was the nicest part of the one you liked the most? My best friend's son's wedding. It was perfect, in September, the weather was gorgeous. The wedding itself, was held outside in a beautiful, huge, perfectly manicured yard. I took photos for the bride and groom and had plenty of backdrops to capture their special day with family and friends.
2. What is your favorite color and which room of your home has the most of this color in it? My favorite color is purple, but I don't have much of it in rooms. The most popular color around my home is green, a soft sage green in shades from dark to light, not the bright kelly greens.
3. What is your favorite kind of popcorn:A) UnsaltedB) ButteredC) Extra ButterD) Kettle CornE) Caramel Corn Can I pick two!? I really like buttered movie popcorn, but also go nuts over Poppycock caramel corn with nuts!

4. Take a little time (!!) for a quick inventory of the clocks in your home: how many do you have and what is the widest difference between any two of them? OMG! I don't know that I can count the number of clocks we have! My guy collects clocks, his favorites are the Anniversary dome clocks. We have clocks in every room.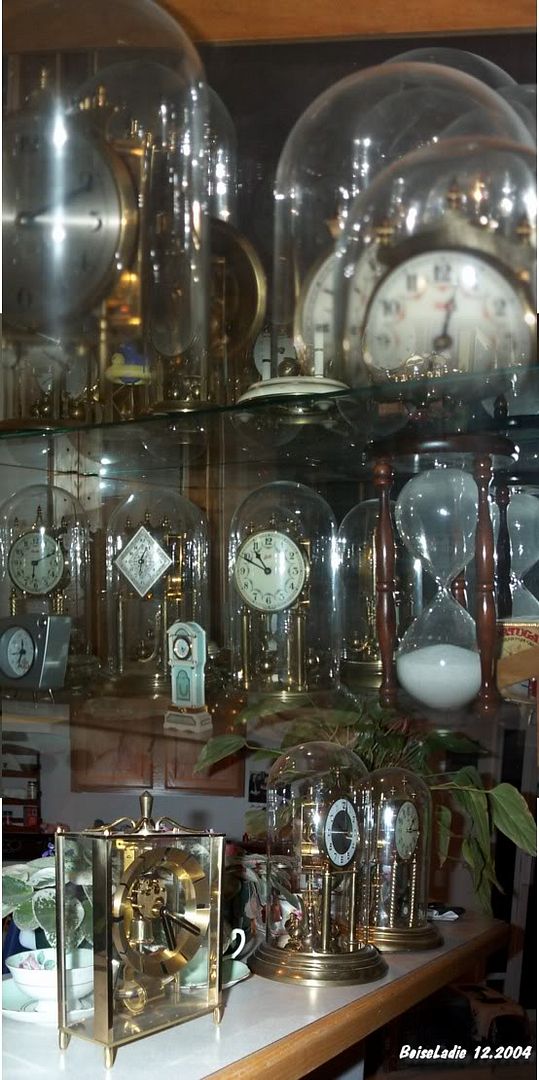 5. When was the last time you used a real rotary dial telephone to place a call? I can't remember.6. READER'S CHOICE QUESTION #34 from
Shannon
: What is your favorite sport and why? I love baseball. Baseball is a game everyone can play. I've played baseball all my life, and have enjoyed a few Yankie games in Seattle. I have found recently, football to be running a close second in my interest in sports.
Go BSU!